WORKING BREAKFAST
Date: April 1st 2015
Place: Serbian Association of Managers (SAM)
Law office Cvetković, Skoko & Jovičić held a Working breakfast on April 1st 2015 on the subject of "Application of the Law on Amendments to the Law on Planning and Construction" at the premises of the Serbian Association of Managers who organized the event and whose member is attorney Goran Cvetkovic.
Divided into several areas, the presentation gave attendees the opportunity to learn everything about changes brought about by this law from attorneys Goran Cvetkovic, Mina Skoko and Jelena Jovicic, partners in the law firm.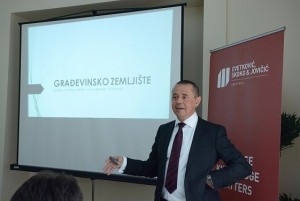 What does the 'unique counter' look like, in which manner shall urban plans incite rather than obstruct construction, the responsibility of state bodies and public companies to act within the prescribed time limits and a simpler procedure for the construction of buildings when the investor is the public sector – these are just some of the topics discussed.
There was also discussion on the application of limiting the amount of compensation for land development, registration rights to newly constructed facilities ex officio, facilitation brought by the unified procedure, and in particular what the concept of building land refers to, as well as what are all the changes and amendments to the law regarding construction of buildings.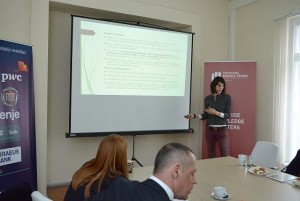 The purpose of the amended law is the elimination of a large number of procedures and fees for obtaining a building permit, improvement of the business environment in order to attract as many investors as possible, increasing the participation of the construction industry in the gross domestic product (GDP) from the current 4% to 7% in 2017, increasing the total economic growth and accelerating many investments and reforms.
We thank the Serbian Association of Managers for their excellent organization of the Working breakfast.